The Best Buildings In Worthing, West Sussex
Worthing has 212 buildings that are protected from demolition or unsanctioned development as they are judged to be of architectural or historical importance.
These 'listings' have a national status and are legally binding. Those who wilfully damage a listed building face prosecution.
Of Worthing's 212 listed buildings, 196 are deemed to be 'Grade II' - the lowest designation. Eleven are 'grade II' and three are grade I.
The three grade 1 listed buildings have achieved this very rare designation for quite different reasons.
Castle Goring, Arundel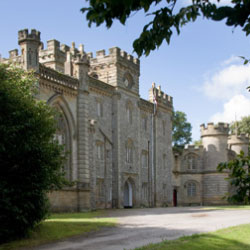 Castle Goring on the Arundel Road/A27 was once the home of the Shelley family, who owned a great deal of land in Worthing during the eighteenth century and give their name to one of Worthing's principle residential streets.
The 'castle' - really a grand country house was designed by the celebrated architect John Rebecca, who designed other buildings in the town in the late eighteenth and early nineteenth centuries, including Beach House and the Old Town Hall (demolished in 1966).
Castle Goring is a house with 'two faces' - the northern elevation is in the Gothic style and rather castle-like in its appearance, while the southern elevation is in the classical, palladian style, typical of country houses of the period.
After years of neglect, Castle Goring is now being restored by a new owner (A certain Lady who appeared recently on ITV's I'm a Celebrity, Get Me Out of Here) and may yet return to its former glory.
The Old Palace in Glebe Road, Tarring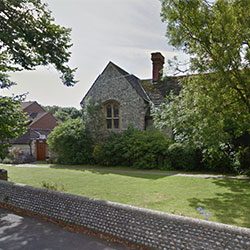 The Old Palace in Glebe Road, Tarring, is a medieval manor house that dates back to the 13th century.
It became one of the palaces of the Archbishop of Canterbury, whose 'peculiar' - that is a parish under his jurisdiction - it became. During the reign of Henry III, the archbishop fell out with the king over the nomination of the next Bishop of Chichester.
The king's nominee took up residence in Bishop's Palace at Chichester, while Richard de Wych, the archbishop's nominee, took up residence at the palace at Tarring. For three years there was a tense stand-off until the king relented and accepted de Wych as bishop. The pious Bishop Richard was well-regarded and after his death was declared a saint.
St. Mary's Parish Church, Broadwater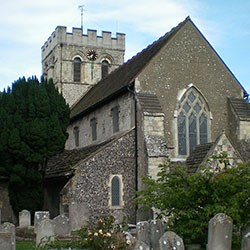 The third Grade 1 listed building in Worthing is St. Mary's parish church at Broadwater.
Although parts of the church structure may date back to Saxon times, it is the four glorious Norman arches in the nave that ensure its exceptional status as a Grade 1 building. There is nothing to compare to these arches anywhere in the borough. Those who worship at St. Mary's can reflect on the dozens of generations who have knelt there before them and on the great continuity this represents.
Of the town's eleven Grade II* buildings, three are churches, or former churches, two are medieval and the rest date from the nineteenth and twentieth centuries.
Parsonage Row in Tarring High Street dates back to the reign of Henry VI in the mid 1400s. The row is now three separate properties - no's 6, 8 and 10 Tarring High Street. No. 10, now the Parsonage Restaurant, is the only part of the row that retains its original features - the timber framing, the Horsham slate roof and the fabulous mouldings found in the eves.
Not surprisingly for a building of such age and venerable appearance, it is supposed to be haunted and an 'uninvited guest' has been known to throw around cutlery and knock over chairs.
The dovecote to the west of the Old Palace is also Grade II* listed and together with the palace forms the only assemblage of medieval buildings anywhere in the town.
Beach House, Worthing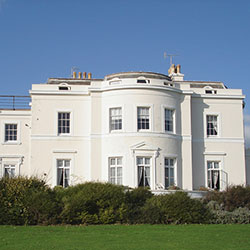 Beach House, already mentioned as having been designed by John Rebecca, faces out towards the sea from the Brighton Road.
It is the finest town house in Worthing, although now divided into luxury flats.
It is only thanks to the determination of conservation campaigners that it survives at all. Twice - in 1948 and again in 1978, it faced demolition but on both occasions it was reprieved.
King Edward VII was a regular guest at Beach House in the early twentieth century and it had many distinguished owners.
Park Crescent, Worthing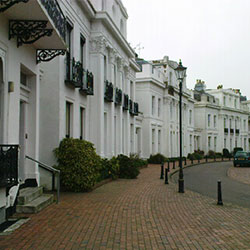 Park Crescent is Grade II*, although it was never fully completed.
In fact it is only half a crescent and was left uncompleted as a consequence of the Great Depression that gripped England during 1829/ 1830.
Amon Wilds, who built so many fine terraces in Brighton, designed Park Crescent. His original plan had a free standing building situated at the centre of the crescent, to be known as the Swiss Cottage.
Today that building is the Beechwood Hall Hotel, but it is at the western end of Park Crescent, the southerly part of the crescent having never being built.
Worthing Churches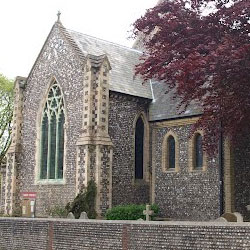 Christ Church in Grafton Road was completed in 1843 and is an early example of a Gothic revival church.
A few hundred yards from Christ Church in Chapel Road is the former parish church of St. Paul's - another building designed by John Rebecca.
Although only thirty years separates the two buildings, their styles could not be more different.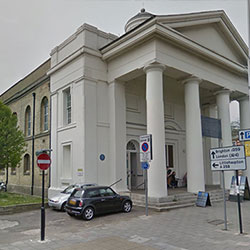 St. Paul's is rectangular in outline rather than cruciform and has a great classical façade with massive columns holding up a giant portico.
Christ Church, by contrast has none of the stucco or brickwork of St. Paul's, but is faced with flints. The lime mortar has been mixed with flint flakes - a technique known as galletting - which gives a very singular affect and is a striking characteristic of Christ Church.
Both St. Mary's church at Goring at St. Andrew's church at Tarring are grade II * St. Mary's was almost entirely rebuilt in 1837 and its listing is due to it being designed by Decimus Burton, who was largely responsible for the creation of St. Leonards-on-Sea as a desirable suburb of Hastings in the 1850s.
St. Andrew's is listed largely because of its age - it dates back nearly 900 years and for its fine tower and (slightly twisted) spire.
The Dome, Worthing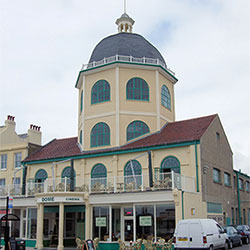 The Dome on Marine Parade was built by Worthing's 'Mr Entertainment' - Carl Adolph Seebold in 1910.
It was a multi-entertainment complex that included roller skating, cinema, meeting rooms and cafes.
Much controversy surrounds the recent decision to disband the Dome Preservation Trust and pass the building to a private operator.
Desert Quartet, Liverpool Terrace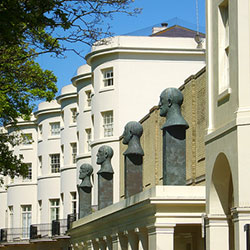 The 'Desert Quartet' stands on a plinth in Alexander Terrace, facing Liverpool Terrace.
These four massive bronze heads were created by Dame Elisabeth Frink and were fixed into position when the Montague Shopping Centre was built in 1989.
They are Worthing's most recent listed buildings - even though they are not, strictly speaking - buildings at all. They are believed to have a multi-million pound value.
So we have 212 buildings of note in Worthing.
Do you have any ideas about what else might be listed in the future? A modern block of flats or council building that should be preserved for future generations?
We'd love to hear your thoughts - get in touch or leave a comment below.