History Of Liverpool Terrace, Worthing
This article is part of another blog which talks about the haunting of our offices in Liverpool Terrace, Worthing.
When Lord Liverpool stepped down as Prime Minister, it was after 15 years in the role. Years that began when England was at war with France and ended with a gathering economic recession. His resignation in 1827 coincided with an ambitious building project by property developer, John James, to build an elegant bow-fronted terrace in central Worthing with views over the sea.
Designed by architect, Henry Cotton, Liverpool Place (or 'Terrace' as it soon became known) was equal to anything being built at Brighton at that time, was an upmarket development for wealthy professionals and visiting aristocrats.
What better than to name these new homes after the country's recently retired Tory Prime Minister, Lord Liverpool?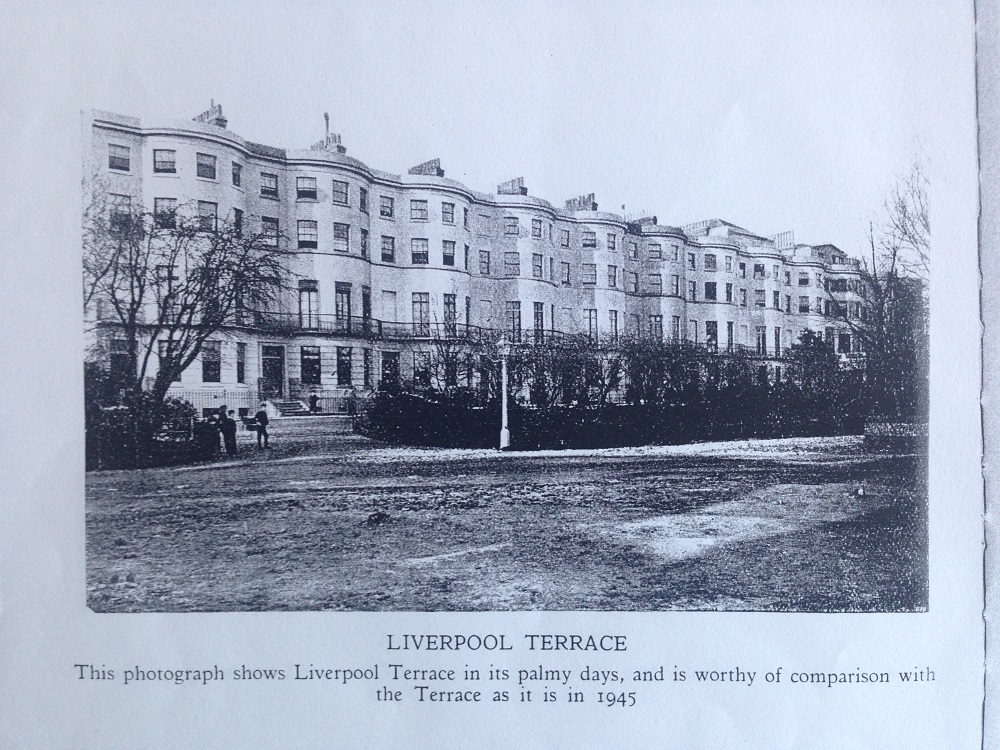 Liverpool terrace article circa 1983.
John James wanted his new terrace to look out over beautiful pleasure gardens, where the residents could indulge their taste for bowling and archery.
He even built an impressive gateway from Montague Street, while at the northern end of the gardens was a splendid gothic rural bower.
All these features disappeared many years ago. By 1911 there were complaints that the gardens had become overgrown and neglected and were plagued by dozens of noisy urchins having a fine time among the trees and shrubs of the gardens at night.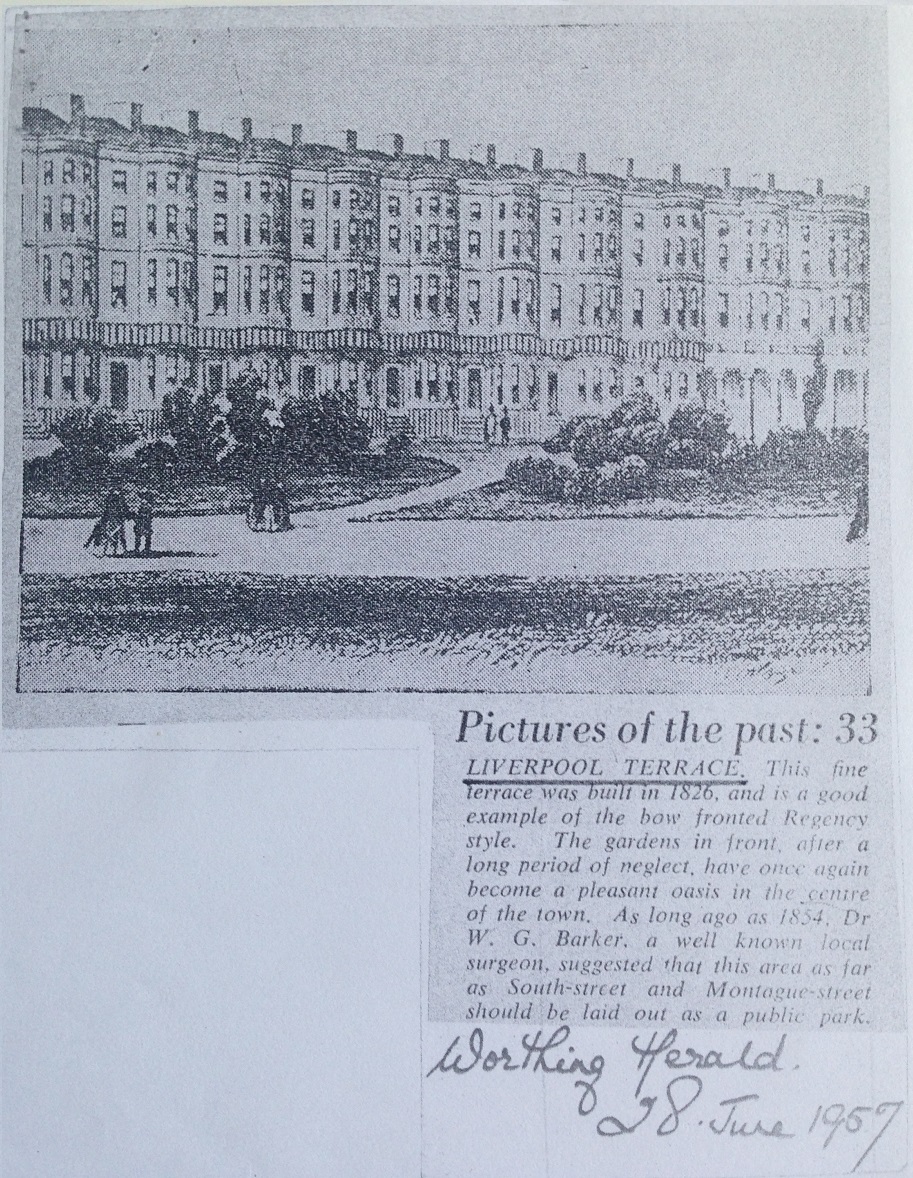 1957 newspaper article showing terrace in 1826.
The road fronting Liverpool Terrace was private and frequently muddy and waterlogged in winter, which added to the scene of decay.
The houses, once the homes of the rich, had, by the 1930s, lost their grandeur: some had been converted into flats and others had been painted in garish colours or were in desperate need of painting!
A fire in 1935 did not help matters and added to a sense of decline.
In 1937, the Council compulsorily purchased the gardens in an effort to raise the tone of the area. In 1949 the entire terrace was listed as being of architectural and historical interest and a "Liverpool Terrace Association" was formed in order to restore its past glory.
All members agreed to paint their part of the terrace in country cream, something that has been adhered to ever since.
At some point the road must have been taken over by the Council, although it was still being described as an unmade mud bath as recently as 1951.
Liverpool Terrace Or Churchill Terrace?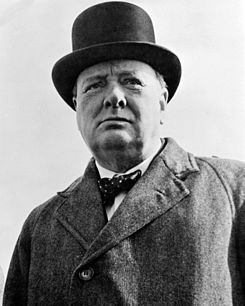 Following the death of Winston Churchill in 1965 there was a suggestion that the buildings should be renamed Churchill Terrace in honour of the late prime minster, but despite some enthusiasm in the town, the idea was never taken up.
No.7 and its occupants Henty Upperton and Co. owned numbers 7, 8, and 9 in 1838, probably renting them out in the season to well-to-do visitors to the town.
The first definite permanent resident of number 7 was Elizabeth Daysh, an elderly lady of independent means who lived there with her servants until her death in 1847.
By 1866, James Hester and family were living at both numbers 7 and 8 Liverpool Place. Hester also owned numbers 2 and 12, which he presumably let. He was a surgeon, who also owned property in Hastings.
By 1871, William Churchill Longman, solicitor, and his family were living at number 7. However, aged only 45, Longman died in the summer of 1871, leaving his wife widowed and his two children fatherless.
His widow, Elizabeth left the home in 1874 and moved to Wiltshire. She died in London in 1915 aged 86.The next resident was the Rev. Henry Smith Anders, but he died only two years later.
From Home To School
Curiously the property appears to have been unoccupied during the years 1876-79. But by 1880 it had become a school for girls. Grove House School at 7 was in competition with a neighbouring girls school at number 8.
Fanny Tranter, 64, was recorded as being the Principal of the school in 1881. Her daughters, Cecily, 31, and Elizabeth, 29 were her assistants. There was also a governess and two servants.
In 1881 there were 13 pupils, aged between 11 and 16. By 1891, Mrs Tranter and her daughters were still running the school, although by that time there were three servants, even though the number of pupils had fallen to 12. Presumably Mrs Tranter was a widow and her daughters unmarried.
The school closed in 1894 and Fanny Tranter died two years later aged 85, leaving 1100 in her will to two (by then) late middle aged daughters.
By 1898 the school was being run by Deborah Banks, who renamed it Arlington House School. Banks died at number 7 in 1913.
Back To Residential Property
During the First World War number 7 reverted back to being a private residence - the home of Marten Smith, who after his father's death in 1922, inherited £12,000 - a large sum for the times, and one allowing him to live a life of leisure. In 1916 Smith had divided number 7 into flats as means of giving himself an income. There were four flats - on on each level. One of his tenants, the Misses Salter Smith were still living at flat 4 in 1937.
A fifth flat was added at some point. Most of the tenants were single women who remained in residence for many years.
A Mrs Riddles was recorded living in the basement flat between 1932 and 1956. A Mrs Newbold was resident in flat 3 between 1946 and 1962.
A change came in the late 1960s, when the flats were turned over to commercial use (the last residential tenant being a Mr F L Palmer). By 1973 there were four commercial tenants, including the Avon Group at no.1.
Number seven has remained in commercial use ever since.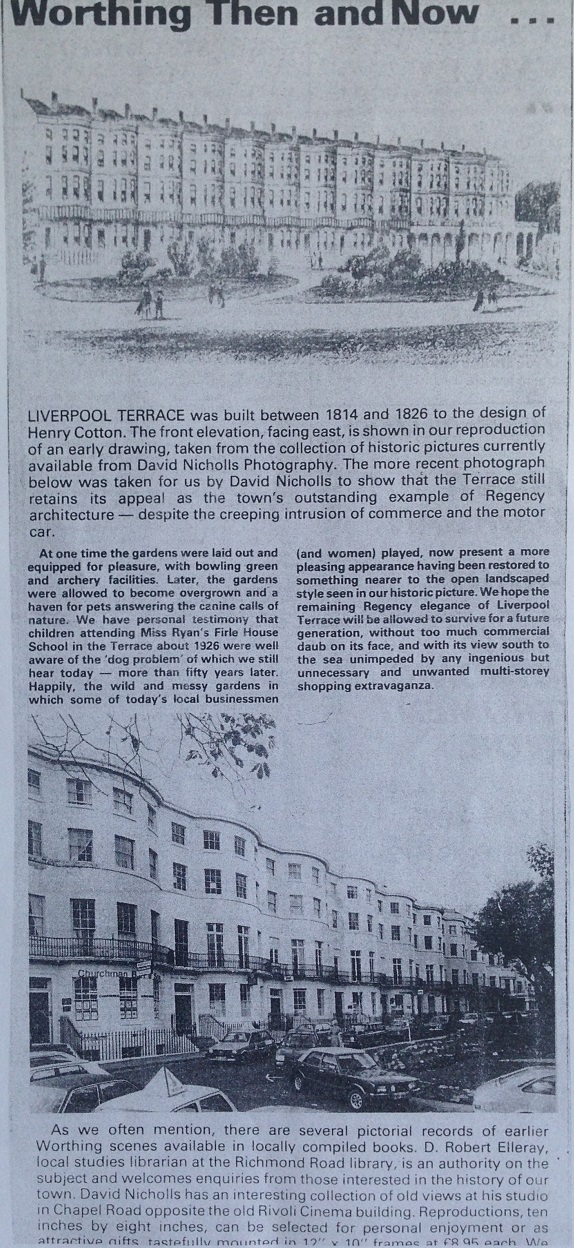 Liverpool Terrace circa 1905.
Your thoughts and feedback are always welcome, comment below and let us know what you think!
Read more about Worthing, local businesses and House Buy Fast on our about us page and local news area.
Image Sources