You need to sell your property quickly, but it's a bit tired. You know you need to update it to attract the best price, but with limited time and money, where do you focus your efforts?
According to numerous surveys, the kitchen and bathroom are the two rooms that can make or break a property sale. But if you had to pick just one, which should it be?
Why your kitchen sells your home
Over the past few years, the humble kitchen has evolved from a utilitarian workspace to the heart of the home. Ground floors of homes are being transformed from a series of rooms with individual purposes to a large, bright, free flowing space in which families cook, eat, gather and relax in.
So if you want to sell your home fast, make sure your kitchen is as attractive as possible.
Of course, if you're planning to sell your home, and especially if you want a fast sale, you probably don't have the time, money or will to carry out major works. But this doesn't mean there's nothing you can do to make your kitchen more saleable. A cheap, quick and easy facelift can make a big difference to buyers.
Transform your kitchen with a few quick improvements
If you don't have the budget to redesign your kitchen, you can still transform it with new tiles, a lick of paint on the walls, and new doors and draw fronts (keeping your old cabinet carcasses). A matching lino on the floor and it will look virtually new!
Decluttering can make a big difference too. Worktops crowded with jars, bowls and piles of paper will make it look smaller than it really is, so make sure your surfaces are as clear as possible for photographs and viewings. And take as much out of your cupboards as you can as well. If buyers get hit by an avalanche of plastic pots when they open a door, they may assume there's not enough storage.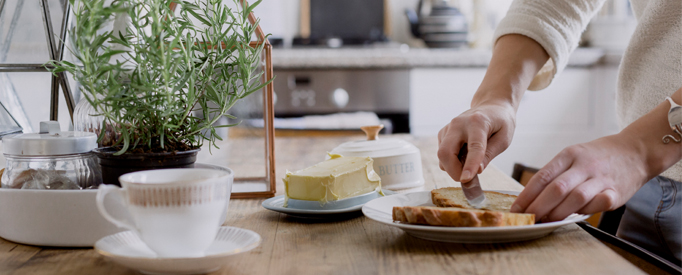 What about your kitchen furniture? Is the room overpowered by an oversized dining table? Or too many chairs to comfortably fit in the space? If so, consider moving chairs out and even replacing your table (even just temporarily). This may seem a pain but if it helps you get a quick sale it's worth it.
Is your kitchen well lit? If you need to change light bulbs, or even light fittings, do. Make sure any blinds or curtains are open for photos and viewings (and lights on if necessary) and that your windows are clean.
Stage your kitchen for photographs and viewings
And finally, don't forget to stage your kitchen for photographs and viewings. Think, "What would make this room seem inviting for the buyers I want to attract?" Then start staging. Some ideas include setting the table for a nice meal, baking break or cakes in the oven during a viewing, leaving an empty casserole pot on the hob, and buying fresh fruit and flowers.
Don't miss the tiny touches too – ensure your dishwasher and rubbish bin are empty, taps are shining, cupboard fronts wiped down and your oven is clean.
Let buyers imagine themselves in your kitchen, preparing wonderful food, chatting with friends and family over a mug of tea or glass of wine, and generally enjoying the space. After all, research shows that if buyers fall on love with your kitchen, they're more likely to fall in love with your house – and buy it!
Need to sell your house fast? We buy any house, whatever the condition of your home, we can help. Find out how we can buy your home from you in as few as 7 days.