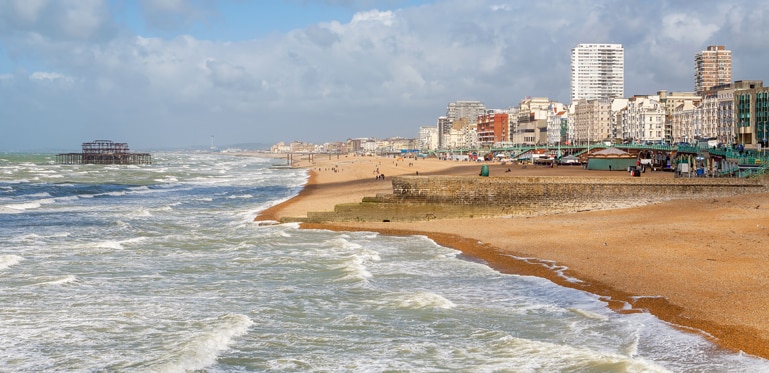 Brighton, East Sussex. Regency getaway and still a place to disappear into the crowds for rat race leavers, dirty weekenders and those who don't feel they can be themselves anywhere else. Brighton has been a top destination for thrill seekers and property seekers for 200 years and when you look at prices here, it shows.
Situated right on the south coast being the 30th most expensive town to buy a property doesn't sound too bad. But when you consider affordability things look quite different. First time buyers cannot afford 90% of property in the city due to the vast array of low paid work available in the area.
Yet something is driving prices – up 9% in the year to mid 2017 (or £29,000 in real terms). One thing is for sure, First Time Buyers aren't fuelling the market.
So why is Brighton so expensive?
Despite many low paid roles, Brighton is also a creative place with small but successful businesses, particularly in IT and design. And all those well paid media types need to live somewhere.
Commuter demand is a huge factor. Despite the best attempts of Southern Rail, Brighton remains just over an hour from our great metropolis and is a haven for young, well paid workers priced out of London or simply those who prefer the relaxed, seaside ambience.
Two geological features push up prices for two reasons. The sea one side, the South Downs National Park on the other mean that development is limited to a narrow strip between the two. This lack of supply fuels the boom in prices.
Finally, add in two Universities, great nightlife, almost uncountable numbers of restaurants and bars, theatres and arts, celebrity residents and some stunning architecture and the ingredients for a property boom are all in place.
Studios start at around £125,000 – see this one near the station, you get 189 sq ft and some Victorian charm.
The cheapest house in Brighton is £240,000 for this 3 bedroom home that needs work.
Feeling like some luxury? A 5 bedroom home with wine cellar, sea views and home cinema is just £2.45m.