Changing Rooms has been on air since 1996 and the TV show has recently had a new series aired. The show centres around redecorating rooms in just two days.  The end results are…interesting. Here at HouseBuyFast we've valued thousands of properties and seen nearly everything you could think of.  But do the improvements improve the value or, as some owners fear, are they nothing short of a disaster?
We've looked at the new series of rooms that appeared on Changing Rooms and valued before and after as well as what we thought might've better helped the property.
Swansea
A living room is one of the rooms we settle into after a long day, the lounge should make you feel good but when selling a property you want your living room to scream potential.
Before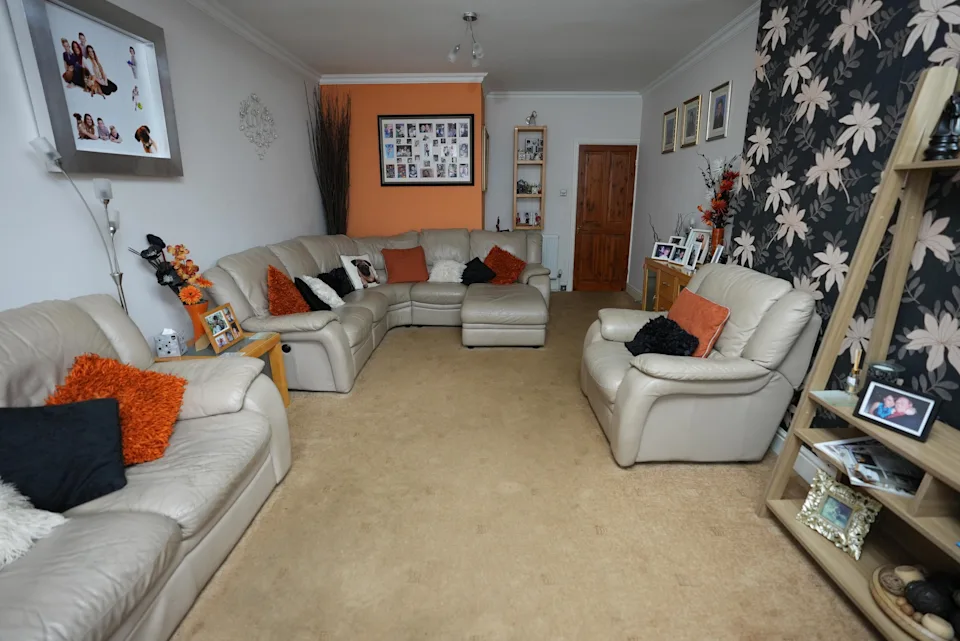 Our Thoughts –
A plain and somewhat dated room. Too many chairs will make a good space seem smaller.
After
Our Thoughts –
Garish colours don't attract viewers. The decor now looks like a seedy 1970's motel room.  The swing is the first thing buyers would remove unless they kept it to make visitors laugh. Ironically the room now looks smaller, despite a de-clutter.
Total added value:
Yes, you read that right, our expert property valuation has devalued the property from this makeover. We would recommend making a more generally appealing space without a swinging chair.
Cardiff
The capital of Wales this desirable location is the home to 335,000 people. This living room is more than just for living in, it can be used as an entertainment for guests space too.
Before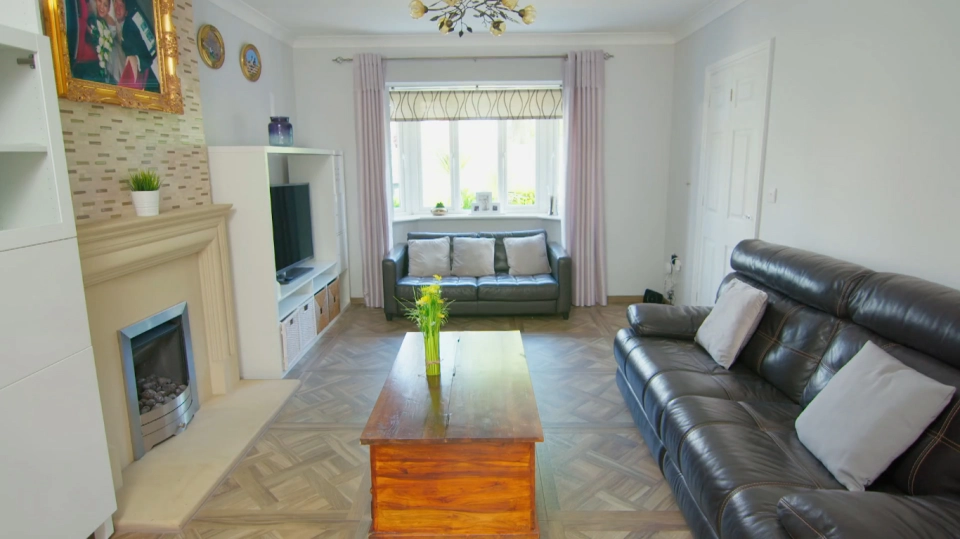 Our Thoughts –
Ordinary and badly lit. Wouldn't 'jump off the page' when selling but would get interested.
After
Our Thoughts –
Bright yellow sofas and furniture with thin legs makes the room look bright and spacious.
Total added value:
Creating a modern and bright room adds some appeal and also adds some value to this property.
Barnstaple
We spend half of our lives in our bedrooms so it should only be fitting it reflects our style. Everyone has a different idea about style and it can be best to keep neutral choices when trying to sell to help.
Whilst we may want a walk-in wardrobe trying to fit one into a smaller property doesn't help increase its appeal, it might be wiser to just get a better storage solution that enabled better use of the space.
Before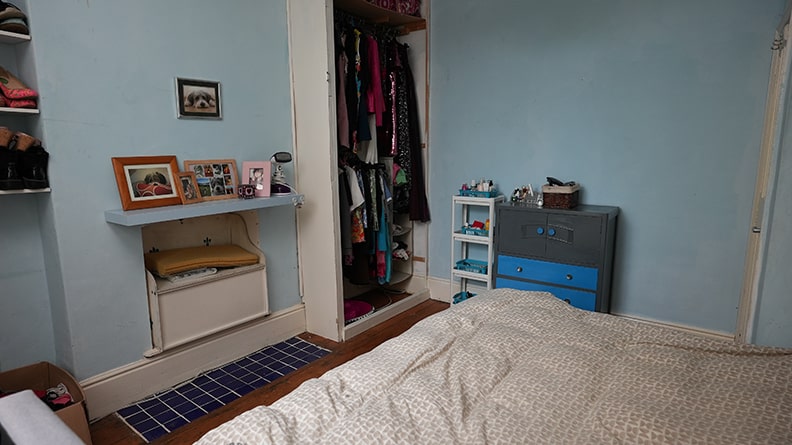 Our Thoughts –
A tired and cluttered room is never popular with buyers but a plus point is the spacious looking room.
After
Our Thoughts –
They've made the room much smaller and the new cupboard makes the space harder to use. However, it does have a clean well-lit look.
Total added value:
It is okay to make a room fit for you, if it makes you feel warm and fuzzy great just don't expect others to get that same fuzzy feeling, if they dont feel the fuzz they might not want to buy and thus the property will sell for less.
Fareham
Fareham is a hop and a skip from Portsmouth which makes it a desirable spot, the bedroom should be a calm spot to get a good night sleep enabling you to have a great day. This space has some nice features from a lot of natural light to plenty of storage potential.
Before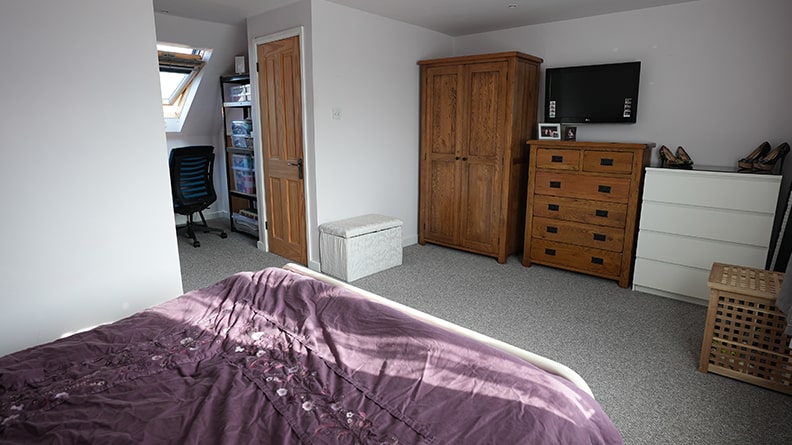 Our Thoughts – 
Neutral and a little ordinary. Shoes on the chest of drawers is an odd design feature but nothing here that will scare away buyers.
After
Our Thoughts –
What can we say here? Let's look for some plusses. The white area looks bright and airy. The rest looks like a packet of Chewits. Take off 10%
Total added value:
Aside from turning on the lights a lot of the light could have been achieved by painting things like the doors and even cupboards a brighter whiter colour which might've saved the cost as well as making this more appealing to buyers.  This space is light even with the dark colours but not everyone may want to go to bed with Laurence Llewelyn-Bowen watching over them.
Bury St Edmunds
We're not sure what to say about this one, the before images are a little plain but more than livable and would show potential to potential buyers but after a makeover, there is a lot of 'personality in the room that may not appeal to all buyers and be a limiting factor.
Before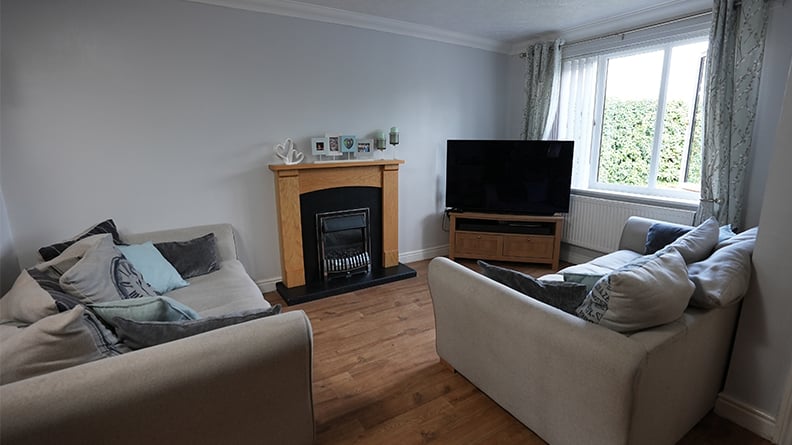 Our Thoughts –
A little grey and boring but with the potential to become a family lounge. Nice big window.
After
Our Thoughts –
The room looks much smaller and the colours are far from ideal for most buyers. But it is at least distinctive and might get buyers wanting to view it.
Total added value:
It's bold and not very beautiful. Nobody needs a landing strip on an armchair. Plus for getting out of the comfort zone but the fake greenery makes us somewhat uncomfortable. We think this room still has a lot to offer and there isnt any change in value.
Bedroom
The finale of changing rooms has perhaps seen the biggest change in the room, from a spacious looking room that shows the potential we've gotten a very personalized colour pallete with a strange layout.
Before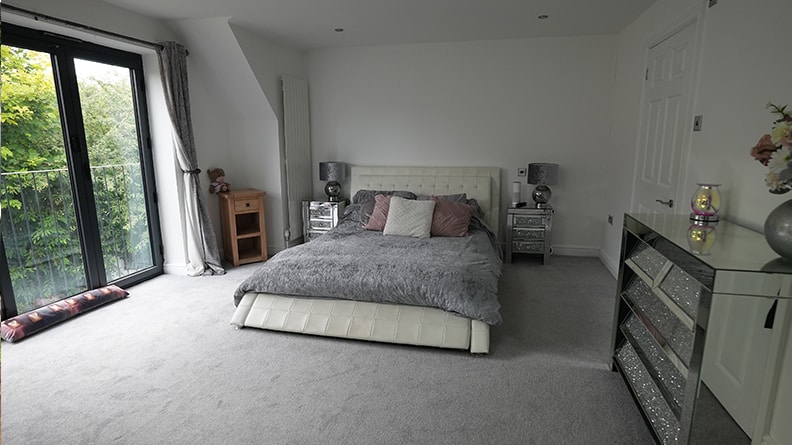 Our Thoughts:
Big and spacious with a hint of bling and lovely greenery outside windows. Would definitely interest many buyers.
After
Our Thoughts –
We are actually lost for words. There isn't much we can say that you aren't already thinking. We'll just leave it there. We are actually lost for words. Should come with an epilepsy warning. We'll just leave it there.
Total added value:
If you want to add value to a property you have to think like a boring person. Buyers want to see a room with potential, what they can do with space when they buy it. It should be neutral. Leave your personality out of it. It's business.
Conclusion
Whilst we've marked down a lot of the properties it doesn't mean taking a risk or making a personal shouldn't be done. The TV show Changing Rooms wouldn't be fun to watch if all the rooms where not  'out there'.
When looking to sell to potential buyers as well as a valuation you want a property to be appealing to as many people as possible. If you can't find a buyer for your property or you need to sell it very quickly due to other cirumstances you can always come talk to us at HouseBuyFast.