We have taken a look at the emerging bathroom trends so you can transform yours into a restful retreat, a place to relax and unwind. Refreshing a bathroom does not always require a complete overhaul: it can be as simple as updating the sink, taps, lighting or colour, so whether you are looking for an entire transformation or a few updates there is plenty of ideas and products to choose from.
Take inspirations from these trends to turn your bathroom into a place of ultimate relaxation in style.
1. Floating Vanities
The crisp lines of floating vanity units are perfect for a minimalistic mood which is a trend ideal for creating the peaceful feel. This contemporary trend is also practical making your bathroom easy to clean. Wall mounted vanity units come in an array of configurations with different sizes and styles. Designs offering more alternatives to ceramic basin are on the rise, using new materials such as glass, concrete, marble, mineral cast basins and quartz countertops.
"A wall-hung floating vanity is ideal for any bathroom and can actually make small bathrooms look larger, as no floor space is taken up. A floating vanity will also reflect light onto the floor, making the room appear much larger.
If you're planning to install a wet room, then a floating vanity is a great option, as it creates the perfect storage without the worry of your cabinets being ruined by water. Having a wall-hung cabinet also makes it much easier to clean your bathroom floor, as there will be no need to clean in any nooks and crannies."
Says Sylvia James, interior designer at Homehow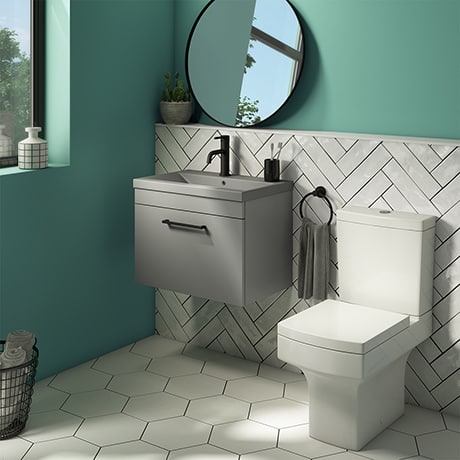 Credit: https://www.victorianplumbing.co.uk/arezzo-600-matt-grey-wall-hung-vanity-unit-with-matt-grey-basin-square-toilet
2. Japandi
Japandi design is a hybrid trend drawing from the key design principles of two established trends, Scandinavian functional minimalism and the ancient Japanese philosophy of wabi-sabi expressed by rustic elegance. This rising home trend combines sleek lines, neutral colour schemes and natural materials.
The key way to achieve this look is planned organic imperfection which can be achieved by the effects naturally created by materials such as wood, stone, concrete, and terra cotta. This trend is about combining elements so using contrasting cool neutral tones and warm shades works perfectly here. For a concept firmly rooted in minimalist, the accessories you choose for a Japandi Bathroom are key. Taps and other bathroom fitting should be sleek with a contemporary finish; matte black or brushed metal works well as a contrast to the natural colour palette.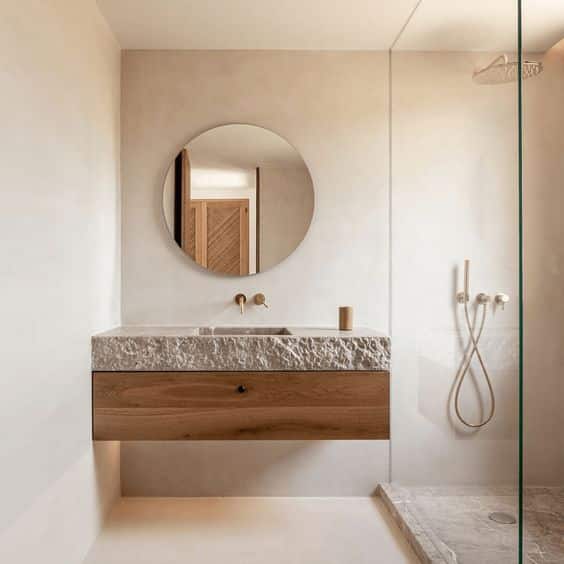 Credit: https://www.pinterest.co.uk/pin/293085888260349114
3. Botanical Walls
Embrace blooms and foliage for a bold and bright impact. Botanical wallpaper brings a fashionable element to bathroom planning and can be an alternative to tiles and comes with the option of replacing it to suit changing tastes and experimentation. Wallpaper is a creative and decorative way to express individual style and character. The power of a bold and colourful bathroom can evoke a very special atmosphere.
In terms of colour, deep blues and green are trending. The moodiness of deep blues can make the bathroom feel more luxurious and expensive especially matched with brushed gold or brass fittings. Green, from the rich jewels of emerald green to earthy green of sage is a growing colour scheme for bathrooms and naturally goes well with the botanical trend.
By adding natural foliage such as palms and cacti to a botanical bathroom you can create the ultimate paradise.
In general, glass fibre and vinyl wallpapers are particularly suitable for use in the bathroom because they are water-repellent.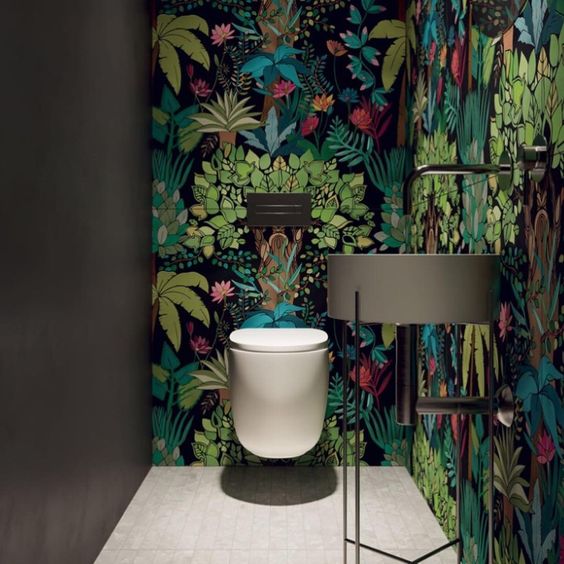 Credit: https://www.pinterest.co.uk/pin/94434923426852236/
4. Integrated Lighting – Luxe lighting
Creative lighting ideas stretch dimensions and increase small rooms visually. Backlit mirrors are an exceptional choice for a modern bathroom design. The glowing effect of a backlit mirror gives the illusion of a floating mirror and is a great focal point. Using integrated around a floating vanity unit makes it appear weightless and highlight textured wall surfaces.
Adding integrated lighting to floors and the edge of ceilings add extra dimension and create a truly luxurious mood.
"LED lighting is generally considered superior when choosing integrated lighting for a bathroom lighting. LED lights are safer due to lower voltage, long-lasting, environmentally friendly as they contain no mercury or lead and uses less energy which means financial savings once they have been set up."
Says Jonathan Rolande, Property Expert at House Buy Fast.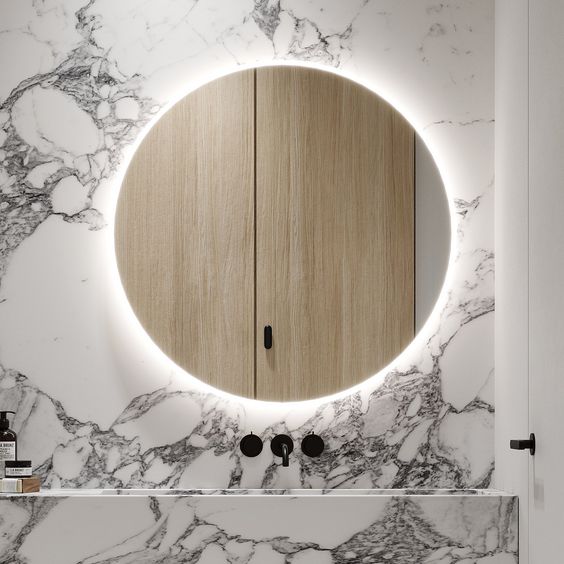 Credit: https://www.pinterest.co.uk/pin/13933080087699912/
5. Smart Bathroom
Smart technology promises to put the control at your fingertips and to make your home work better for you, and now it has come to your bathroom. From de-misting mirrors, smart toilets, self running baths, automatic soap dispensers and chromotherapy shower systems, the bathroom is a haven for smart technology. According to Victorian Plumbing the trend for Smart toilets alone has risen by 45% which proves the rising popularity of smart bathrooms. Prepare to be transported to a future that was unimaginable just a few years ago. The future is now.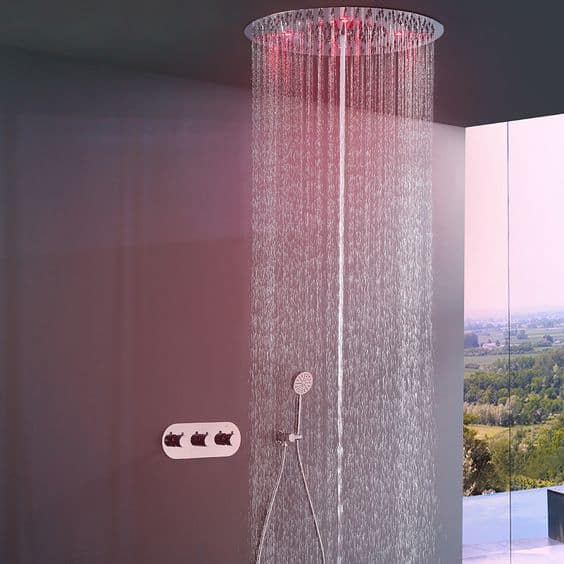 Credit: https://www.pinterest.co.uk/pin/381046818481049127/
What do you think of some of these bathroom trends? Let us know on Twitter. Home improvements can really help increase the resale value of your house. No matter the condition of your property or style we can help as we will buy any house, Find out how much you could get with a free no-obligation cash offer today.