Selling And Buying At Auction Houses In The UK
Increasing numbers of people are looking to auction houses to sell their properties. Perhaps this is because of the patchy property market (strong in some hotspots, slow in other areas) or because some traditional buyers are still struggling to raise sufficient finance.
Whatever the reason, selling at auction can be a good alternative to the traditional route of selling through an estate agent.
Buyers love auctions – it's fast, exciting and relatively straight forward. Better still, there are often plenty of bargains to be had!
So here is some finer detail about the auction world.
What Type Of Properties You Will See At Auction
Mostly they'll just be from people wanting to move house quickly – it can take just a month or so from start to finish so it's a very quick house sale – but there will probably be lots of bank repossessions, probate sales and problem properties too.
This is why buyers at auction must be especially cautious, once the hammer falls there are no comebacks!
How To Sell At Auction
Information that auction companies require include the address of your property, a description, a photograph, tenure and tenancy (if applicable) details, floor plan or site plan and anything else you consider to be material in selling your home. They will generally visit the property to value and prepare details but they may leave this to a joint auctioneer, usually a local estate agent.
Of course there are costs to selling at auction, not all auction houses set the same fees, but usually there is an entry fee of around £500 payable up front and around 2% plus VAT of the sale price.
Marketing at auction is different for each company, but a majority use catalogues, online marketing, local newspaper adverts and individual marketing.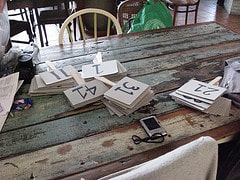 After fees have been agreed by you, a legal pack will be prepared containing various documents that are crucial to a house sale, such as title documents and office copy entries so they are available to interested parties either by post or online. A survey is sometimes included.
Next you'll need to set a guide price, remember make this attractive to buyers as you don't want to scare people off with an outrageously high starting price, but also don't be too generous with a low guide price.
You'll need to set a reserve price for your property, this is the price that the auction house will not be allowed to sell below, remember to set carefully as there is no going back.
If your house doesn't make the reserve price, don't worry you can also accept the last bid price and the auction terms and conditions still remain – assuming that the bidder is still willing.
Selling At Auction Infographic
Embed This Infographic On Your Site (copy code below):

How To Buy At Auction
You'll need a solicitor (and funds) to bid, and remember ID on the day. Check the terms of the auction carefully as there may be pre-registration required before bidding. Be careful of Buyer's Premiums too. They need to be factored in to the total cost.
If you have your eye on a house it's best to check a day or two before hand to check if the property you're interested in is still on the market. It's not unusual to see properties advertised taken off prior to auction.
It is important to remember that changes can be made to the lot information or conditions of sale, this is called addendum. This is very important as it will affect the memorandum of sale, so don't go into a bidding war with someone without know the full information!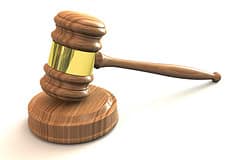 What happens once the hammer falls?
Well if you are the highest bidder above the reserve price the lot is yours and a legal contract will have been formed. You'll have to hand over a deposit cheque which is normally 10% of the purchase price and provide identification.
Completion of sale will normally take place in 20-30 working days.
Choosing An Auction House To Sell Your Property
Various Auction House Companies In The UK
Picture Sources:
Chris Potter, Moira Clunie