We Buy Any House,
Any Condition, Anywhere in England & Wales.
As a top-rated national home buyer, we are able to buy every type of property including land in a variety of places and every major city such as Nottingham, Manchester, London, Birmingham, Oxford, Bristol or Leeds. Whatever the reason you need to sell we are able to help, there can be a variety of circumstances and we're one of the top companies in the UK who deal with the cash buying property market.
Join thousands of other happy customers today and find out how much we buy any house for!

Get a guaranteed offer today..
Contents
On this page, you will find help about how we can buy any house as well as how it works, who can use the service and how HowBuyFast (national property buyers) compares to an estate agency. Customers testimonials and finally our guide on how to avoid getting ripped off using we buy any house service.
If at any point you want to talk to a member of the team you can call free the number on our contact page, fill in the form and someone will call you back at a time you choose or use the live chat.
Comparison between estate agencies and quick property sales
How we can buy any house or cash?
We are property cash buyers, we have cash funds ready to purchase properties throughout England. Because we are cash buyers we can buy a property much faster than traditional estate agents. We are not a solution for everyone and we wouldn't be able to give full market value but all fees are included and the offer we give is the money you get along with a guaranteed quick sale and with less stress than dealing with 9 months of selling with traditional home buying companies.
We detail more on how it works on our 'how it works' page if you require further information alternatively please get in touch and we would be happy to discuss anything that concerns you have or you would like to clarify. In 2021 cash buyers accounted for around £1.5 billion of property buying, this is 5535 properties in a year (based on the current average house price of £271k) the market is large and established so if as long as you use a legitimate company you are in safe hands. Don't get ripped off and don't get scared see our guide on staying safe with 'we buy any house' services.
Who can use this service?
The service is available for anyone but we've found it can be especially helpful for people who are in circumstances such as:
Selling your house to help pay off debts. – We can buy any home in just days that can enable you to clear your debts, if you are having problems with repossession we have also helped people delay, prevent or avoid getting things repossessed
Selling probate (inherited) property – You may need to sell a property quickly due to emotional or financial circumstances. Our team are trained to help.
Selling flats with short leases – it's hard to sell a property with a short lease but not for us, come see what we can do.
Any property with a tenant – if you are a landlord who has a problematic tenant or an assured shorthold tenancy (AST) agreement and having difficulty selling we can help.
Selling a property due to divorce – sometimes things don't work out, if you are separated or divorced and need to move on we can help you sell your house quickly.
Relocation (and emigration) or downsizing requirements – No longer is this just for older people looking to get a smaller place after their family leaves them, many many more people are opting for this option.
..and many other reasons for needing to sell a house fast. – We are one of the UK's top cash buyers and we have helped thousands of people, talk to us today and see what we can do for you.
We're able to help 98% of our customers with the 'we buy any house' service if we're unable to help we can normally give great advice as to what options will be available to you.
How do we compare to a traditional estate agent?
House Buy Fast vs Estate Agents Sale
Compare the cost of selling your home with traditional Estate Agents and Property Buyers.
Selling to us for cash

3 days+

Selling via Estate Agent

6 months+

Asking Price

£100,000

Asking Price

£100,000

Average agreed purchase price

£80,000

Average agreed purchase price

£95,000

Final agreed price after survey

£80,000

Final agreed price after survey

£93,000

Estate Agent fees

£0.00

Estate Agent fees**

£1,674 inc VAT

Cosmetic repairs (if required)

£0.00

Cosmetic repairs (if required)

£750

Solicitor fees

£0.00

Solicitor fees

£1,000.00

Council tax and other bills (while sales is going through)

£150

Council tax and other bills (while sales is going through)

£1,800

Average Mortgage payments (while sale is going through)

£0.00

Average Mortgage payments (while sale is going through)†

£1,600

Net price achieved

£80,000

Net price achieved

£86,000
Get a quote
See our guide
*These figures are for guidance only, individual sums can vary.
**Assumes 1.5% of sale price (plus VAT).
†Assumes £80,000 at 4% PA.
"I had a web chat with Duncan with a view to getting an offer for a cash sale for my flat. He was very helpful and answered all my questions while finding out everything he needed from me...."
"We didn't use them in the end but they were not pushy and professional in their conduct."
"The whole service was fast and painless during the lockdown due to COVID-19 Alfred and the team was always there to help would recommend the company 100% You don't get the top price however when you work out the cost of the sale and time you don't lose much money"
"Although,due to health reasons,I did not proceed with the sale of the property,I was most impressed with the prompt response to my enquiry and the very fair amount of finance offered together with the clarity and straight forwardness of the terms and explanations to my requests"
"Even though the sale was not a easy one .. the communication was brilliant ... Even through out covid mario was understanding and if I had any issues he was quick to sort with no fuss or drama and put right what went wrong ... His customer service skills are second to none"
"Really nice gentleman, Chris. He was honest and shared a price on the call. No messing about. Would recommend the service for people who are looking to sell stress-free."
How does it work?
Fill in the form which takes approx 30 seconds
We will get in contact almost immediately, look at your options & requirements and give you your free cash offer based on the information you've given us.
if you accept our no-obligation offer we then send an independent RICS surveyor to check for any structural issues, if this matched the information you've given us you sign some paperwork sent by solicitors -we pay all the legal costs.
Once the paperwork is complete we can give you your cash (in your bank account) the same day as the paperwork is complete, no legal fees, no hassle and no problem!
Trusted members of..
We have been around a long time, so much so in fact that we saw an essential requirement in the quick house sale sector to help create The National Association of Property Buyers. We uphold the code of practice set with them and the property ombudsman and actively push for high standards for customers who require a quick house service.
Founding members of:
and proud members of: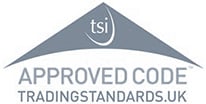 How much would I get for the 'we buy any house' service?
It is a case by case service and we take into account many factors, generally, it will be under market value (We use independent RICS surveyors) but can be up to as much as 95% though it can also be lower and for an accurate quote it's best to get in chat no-obligation cash offer. (NOTE company used keyword)
How quickly will you make an offer?
We can make an offer within a few hours. This is a genuine offer and there is no obligation on it, if you agree we will then arrange an independent RICS (Royal Institution of Chartered Surveyors) surveyor. This is at no cost to you, assuming they do not find anything wrong we'll then create a formal offer and you'll get your cash on contract exchange which will be simple and stress-free compared to traditional estate agents. With a guaranteed sale its no wonder why we're the UK's top-rated property company.
How quickly can you buy my house?
The quickest we've ever purchased property was 3 days, we normally buy in a week or two and average at 13.5 days. We aim to buy your property on a time scale to suit you so this can be as quickly or as slowly as you need and we will be there to help and answer any questions you have along the way.
Is your service free?
Yes, everything is included in the quote we give so the cash offer we give is the cash you will get. This means no solicitors fees in fact no legal fee's at all. The cost of surveying the property is included and any time and materials costs are also all on us so you can focus on what's important to you.
What type of properties do you buy?
We can buy any type of property and even in some cases land. We can also buy properties that are tenanted (you are the landlord) and we can buy them in any condition so why not give us a call and find out what we would give you today?
What are the pros & cons of using a cash property buyer?
There are many differences between our property buying service and traditional estate agency. We've listed just some of the pros and cons below.
Pros:
A time frame to complete the sale that suits you
An online private service that promises to offer you a discreet sale
We buy your home directly with cash. No mortgage is used to buy your property
We buy any property in any condition
We don't tie you into any commitments or contracts
We provide independent and impartial property valuations supplied by the Royal Institution of Chartered Surveyors
Cons:
Potentially could achieve more on the open market using traditional estate agency
Not the answer you were looking for? Contact us and ask us directly either by email or phone.
How much of the market value will you offer me for my house?
Using a fast house sale company means you are likely to receive under market value for your property. Exactly how much this is varies depending both on the property, its condition and the local property market.
When working out whether accepting an offer for this value is the right thing for you and your family it's important to take into account the costs you would have to pay if you sold your home using traditional estate agents. These include solicitor and estate agent fees, mortgage payments and bills while you wait for the sale to complete and any repairs you may be required to do.
Not the answer you were looking for? Contact us and ask us directly either by email or phone.
Does House Buy Fast charge any fees or costs?
We don't charge you a penny when using our property buying service. House Buy Fast also covers all the house valuation fees – and don't forget you'll be saving money that you would otherwise be paying to an estate agent. We pay all the legal fees too.
This means once you've received your property valuation you know that this is the amount of money you will receive at completion – no fuss – no fees. We want to give you a fuss-free sale, out customer service team is what makes us the best quick house sale company in the UK!
Not the answer you were looking for? Contact us and ask us directly either by email or phone.
Is there much paperwork to complete?
We make the sell house fast process as simple as possible and take on much of the workload ourselves. We'll instruct your solicitor as well as our own to carry out proceedings to move the house sale forward as quick as possible. Alternatively we can suggest some solicitors we know can act fast.
By using our service all you will have to do is sign the contract of sale (this is the transfer of ownership from your hands to ours) and answer some basic questions about your property. Other than that, all of the remaining paperwork and queries are fulfilled by the solicitors.
How long has House Buy Fast been in the property buying business?
The House Buy Fast team has a wealth of experience in the property buying sector. Jonathan Rolande, Director of House Buy Fast, alone has over 30 years' experience in the property industry.
House Buy Fast has been committed to buying property since 2008 and in that time we've helped thousands of people achieve their ambitions of moving without fuss, fees, hassle and strings attached.
Is the House Buy Fast service confidential?
Unlike selling your home with an estate agent the whole we buy any house process is confidential. House Buy Fast doesn't advertise with for sale boards and we don't advertise in your local area. We simply buy your property with no fuss.
House Buy Fast will instruct your solicitor and get a local surveyor to come look at your home in case we've missed any potential problems, such as structural damage.
No one else is going to know that you're using our service and the property is changing hands until it has actually gone through.
How do you work out the value of my property?
Our team of trusted property valuers have over 50 years worth of experience, and use valuation tools that are only available to our company. This will be your preliminary house valuation that we will offer to you within a day.
We will also send an independent surveyor from RICS to take a look at your home for any unseen problems. The independent surveyor will then provide House Buy Fast with a formal valuation which we can use to put forward our offer on your property. A formal valuation of your home can take up to two working days.
What if my situation changes and I don't need to sell?
If your situation changes and you no longer need to sell your house that's completely fine. Remember, we pride ourselves on making the whole process zero risk and zero fees to the seller. We'll even cover the costs of your solicitor until that point, so there is nothing for you to worry about if your circumstances do change. We want to give you a hassle-free property sale, if your situation changes we will be here to help you however you need.
Don't get scammed with a We Buy Any House company:
An awareness guide.
The rise of 'we buy any house' companies has exploded over the last 10 years with them making up a very large portion of the total cash buyers. Unfortunately with the rise in popularity of 'cash house buyers,' there is a rise in 'buy any house scams' and fraudsters who at best will sell your data on or at worse try to scam you.
The quick house sale sector is not regulated and this is one of the reasons we helped to found the NAPB – The National Association of Property Buyers. Working with organisations such as The Property Ombudsman and Trading standards. The aim is to help customers be able to select companies and have a safety net that they are safe against a code of practice as well as having accountability if anything was to go wrong.
We decided to put together a quick and short guide to help you avoid getting ripped off (in 2021) by a property buying company.
Contents:
Associations
Trust
Reviews
Too good to be True?
Last-minute changes
Discussed estate agents
Selling your data
Trading companies
Shop around
Finally
Associations
You wouldn't take legal advice from someone who isn't authorised to give it, so why would you talk to someone about your house who isn't qualified?
The first and possibly easiest way to spot a bad deal and thus a bad we buy any house company to avoid is are they a member or any trade or legal organisations? These will be companies like the National Association of Property Buyers, The Property Ombudsman or Trading Standards You wouldn't take legal (or financial advice) advice from someone who isn't authorised to give it, so why would you talk to someone about your house who isn't qualified?
By being members of these organisations they are upholding their standards but also giving you somewhere to go if something goes wrong, if they are not a member you are on your own. It can help prove they are genuine companies rather than trying fraudsters.
Trust!
Trust is the biggest factor in anything, trusting anything you read online has become more problematic with a larger rise of 'fake news' and how can you believe everything you read on the internet? Don't be afraid to ask questions, don't be afraid to do background checks! Do reviews seem legitimate? Many times quotes you read have no factual basis or requesting proof is ignored. Even screenshots are regularly used as doctored images to help tell a story.
Where can I find reviews for 'we buy any house' companies?
There are services out there that have worked hard to ensure that things like reviews are vetted to be legitimate and not faked, tools such as Feefo or Trust pilot. At House Buy Fast we're one of the top rates quick house buyers with a growing amount of verified reviews from Feefo.
It's always worth checking reviews of the cash buying company to ensure they are legitimate and that you trust the reviews, fake reviews can be big business
Too good to be true?
The saying rings trust that 'If something seems too good to be true, it probably is too good to be true.'
The way quick house sales work is that they are purchased at lower than market value, this means they can then be sold quickly. The cost of the speed is the reduction of the total amount earned. However, there are normally no fee's included. If someone is saying they will give you 100% open market value you should be very cautious. Most cash buyers will be under market value. Do not get locked into an option contract and do not accept delays and stalls that are unreasonable or unexpected, these companies are here to help you – don't forget!
Last-minute changes
Another dirty tactic used by scrupulous house buying companies is dropping the price at the last minute. This can be for several reasons, it may be that they do not have cash funds to buy your house and are unable to secure cash to buy your property so they have to drop the price to better target investors.
They want to get you stuck between a rock and their contract so you can't back out and are forced to take their money. Never sign anything unless you are happy and do no tie yourself into a contract unless you completely understand it. Any property buying company who are good at what they do will easily help you answer any questions with no quibbles and no problem at any stage, don't be afraid to ask questions, chances are whoever you are dealing with has helped hundreds of people before and would be happy to help.
Disguised estate agent
it may be that a 'buy any house company' is in fact not a cash buyer but just an estate agency who want you to use their service, as our previous point do not sign anything unless you know what it is for. Cash buyers can normally buy your house in a week or two but traditional methods take (around 9 on average) months. You might also get tied into an estate agency contract with all the associated estate agents fees which you wouldn't get with a cash buying service.
Selling your data
if they are not an estate agency and they are not a cash buyer then that tends to leave 'lead generation' sites. "What is a lead generation website?" you ask! The creation of a lead is trying to convert a customer into a sale however, most of the sites sell those leads on to other companies spreading your data across the internet. This isn't always bad, companies such as Compare The Market and confused.com have made a large business out of this but generally speaking you as a customer would be aware of what is happening. Many times we've seen websites crop up offering comparisons or advice to only give bias advice or comparisons to the highest paying bidder not really informing customers what they're getting or if they're getting the best deal for a house sale. Check the terms and conditions of a site if you are not sure.
Trading companies
A way to tell who you are dealing with is to look who the company is, are they a trading name or a registered company? Registered companies have legal obligations, running a website to scam people do not have them. So check who you are dealing with. Legitimate companies have nothing to hide!
Shop around
Just like you may shop around for a high street estate agent to get the best rates/price it's worth shopping around to find what the best deal can be for selling your property to a house buying company. Not only will you be able to compare prices but also service and it shouldn't cost you anything but a bit of time.
Final Thoughts
Like everything from shopping to making a phone call, there is always a chance of getting scammed or ripped off and quick house sale companies are no different. If you do due diligence like ensuring you check reviews, ensure they are members of associations that might help to keep you safe if things go wrong, don't forget to check on the associated sites as you shouldn't believe everything you read until you get the chance to check them out for your own eyes. A lot of the time common sense applies the same as ordering designer pair of sunglasses from a site no one has ever heard of! Unlike estate agents, there are no regulations in the we buy any house industry.
Feel free to ask any questions to the friendly team at Housebuyfast who are one of the top-rated property buyers in the UK by independent reviews from Feefo.
News & Guides
If you're looking to sell your house quickly then our experts tips of the trade are a must read
This article will help you understand how much it costs to sell your house at auction, the process, how it works, and how to choose the right auction house for your property.
Get a free guide to everything you need to know about selling your house fast.
If you want to buy a property at auction then it's important you understand the process. This guide gives you an overview of everything you need to know.