How to Buy a Property at Auction and How It Works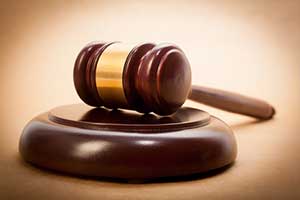 Buyers love auctions - this is because buying property at auction can be extremely exciting and profitable.
This in-depth guide will explain how to buy property at auction.
Property auctions hold advantages, such as reducing the lengthy purchasing procedures that you can expect when buying through an estate agent.
You also have the security of knowing that you can get a quick purchase without the risk of gazumping.
This is because as soon as the hammer falls at the auction house, the property is sold to the buyer. As covered on our selling at auction page.
Preparing for the Auction Day and Finding Auction Houses in the UK
Before you head to auction you should make a list of essentials that you want in a property.
This could be specific areas, style of house (detached, semi-detached, etc), price range, the state of the local schools and crime rates.
Once you have your goals in mind you're ready to start searching for your perfect home.
Auction Property Checklist
Match a property to how you live
Work out your budget, space and location needs
Draw up 'would like' and 'really need' lists
Check parking, storage and Council Tax
Check crime rates, transport links and whether prices have risen or fallen
Locating UK Property Auctions Where to Find Auction Property
You'll need to locate a property auction taking place, they're usually quite regular.
You can start this by checking various property magazines and papers.
You can also find out information about upcoming auctions from local estate agents, regularly checking online auction websites and auction catalogues.
The EIG group have a list of live online auctions across the UK, which is a great place to start.
Auction Top Tip

If you have never experienced the auction room before, we would suggest going to an auction without any intention of buying.

The whole process can be quite confusing!
Once you're done identifying the properties you're interested in, as with any property you want to buy, view it more than once.
This is important when buying a property at auction as very often these properties are in a poor state.
If you're planning to renovate the prospective property it would be advisable to bring an architect along. Remember time is of the essence, normally coming in at four weeks from publication of the auction catalogue to the auction day!
Legal & Financial Matters How to Purchase at Auction
At auction you should be given a legal pack when expressing interest on a property - this forms part of the legal contract between you and the seller.
You should always consult a solicitor about any prospective purchase at auction to avoid any legal pitfalls - better to be safe than sorry!
You should also arrange your finances prior to auction. It's required that you pay a 10% deposit on the house, on the auction day and then you have a further 28 days to finance the remaining 90%.
If you need a mortgage, make sure that you have discussed all the financial implications with either a bank or building society.
The Auction Day What to Do on the Day of the Auction
The first thing you will need to do is register yourself on the day.
The two most important items you need to bring on auction day are identification (Passport, drivers licence, etc.) and more importantly, if successful you will need a 10% deposit, so bring a chequebook and proof of funds.
Bidding at Auction the Process and How It Works
As with any auction process, position yourself where the auctioneer can see you clearly and make your bidding clear.
Don't risk any unintentional bids and once the auction is under way, remember not to get carried away - stick to your plan and stick to your budget!
If you managed to meet the reserve price and there are no other bidders, congratulations! You have just bought your first property at auction.
However, if you don't reach the reserve price don't panic just yet.
The auctioneer can act as an agent for you, ensuring the deal between yourself and the seller can take place. This will only be possible if the vendor can agree a price after the auction.
Sometimes it's also possible to complete a deal before auction, you should speak to the auctioneer to look into this possibility.
Buying a Property at Auction Process with Jonathan Rolande
Video Transcription
If you want to buy a house at auction it's a relatively straight forward process, certainly compared to the normal purchasing situation.
You'll need to see the property of course and obtain a legal pack and get a solicitor to look over that, and then you'll need to attend the auction or leave a proxy bid with the auctioneer, in other words, tell him how much you are willing to pay, or you can normally these days bid online by registering sometime before the auction, in order to do so.
If you then bid up to the correct amount, and you should always set a limit on yourself and not exceed it, because it's very tempting to get carried away and pay too much for the property.
If you bid up to the correct amount and you end up successfully purchasing the property, the hammer will fall and you will have exchanged contracts, there is no going back at that point.
You'll have to pay normally a 10 percent deposit plus buyers premium to the auctioneer and then they will set a completion date, normally a month or so after the auction, for you to actually pay the rest of the money and pick up the keys to the property.
Auction House Companies in the United Kingdom
Related Links & Redress Schemes
The National Association of Valuers and Auctioneers is a professional self regulating body solely concerned with valuers and auctioneers.
A professional body established in the UK by Royal Charter, providing impartial, authoritative advice.
The Competition And Markets Authority promote competition for the benefit of consumers, both within and outside the UK
The official online resource for the UK Ombudsman Scheme for Estate Agents. Includes a searchable database of member estate agents.