Built with a mainly brick façade and a large, imposing entrance vestibule to reflect the Art Deco passion for clean, bright Portland stone, it is clear that this building is anything but a standard early 20th century Mock Tudor property.
Clues to its past were to be found on entrance gates and even service cupboards outside each flat.
Yet it was another unusual design feature that brought it to the attention of The Luftwaffe during The Second World War...
Elmfield Flats, Southampton were built for passengers of world-renowned operators such as The Cunard Line, disembarking from luxury liners of the 1930's. The quality of the building was intended to reflect the liners themselves as well as the luxurious hotels that wealthy travellers would have been accustomed to.
A Cunard rosette logo could be found on the entrance gates and those service cupboards outside each flat? Well that is where shoes would be placed for polishing by one's valet of course!
Two of the blocks, West and North were completed before the outbreak of World War Two in 1939, when, understandably travelling across the oceans by liner ceased due to the fear of being torpedoed.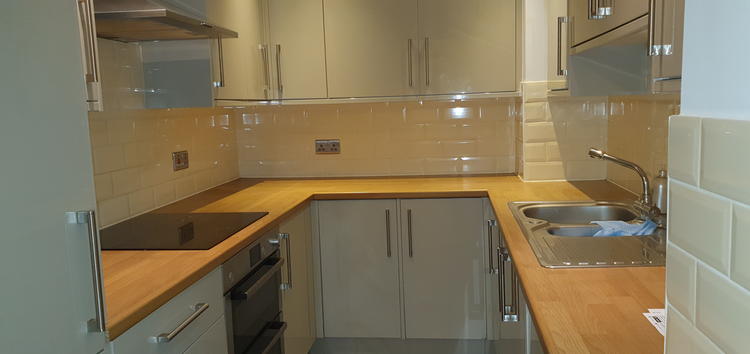 How Did Southampton's Property Hold up in World War 2?
The building's glamorous past was soon forgotten when Hitler's attention turned to Southampton.
Clearly an important port, transport and industrial hub, the area was also home to Supermarine, makers of the Spitfire. The area was hit hard by German bombers. It soon became clear to the defenders of Southampton that the unusual roof of the Elmfield Flats was being used by the enemy to aid navigation.
Although it appears to be a standard pitched and tiled roof, it was in fact a vast slab of bright concrete, clearly visible from the air and it was hastily grassed over to camouflage it from the enemy above.
In total nearly 500 tonnes of bombs were dropped on Southampton in the war, with Nazi propaganda declaring it to be 'a smoking ruin'. The Supermarine factory was destroyed in 1940 with great loss of life.
After the war, the East and South blocks were never completed and the building that still joins the two blocks was in the end never used for its intended purpose – a ballroom and restaurant for the pre-war rich and famous.
The grass camouflage on the roof was removed and the area was used by residents for a more peaceful activity - sunbathing, until this was stopped, apparently for health and safety reasons.
The 2 bedroom second floor flat within this historic building is available from SDL Auctions at £60,000+ on 30th September 2020.
Photos and particulars can be viewed on the SDLAuctions website.
See a bomb-aimers view here courtesy of Google Maps.
A video tour can be viewed here on YouTube.